The Finnish Contech company Aiforsite offers the construction industry a game-changing productivity management methodology, which makes the construction site's workflow waste visible and enables tracking of the actual and planned progress in real-time. Increasing the amount of uninterrupted direct work is the key.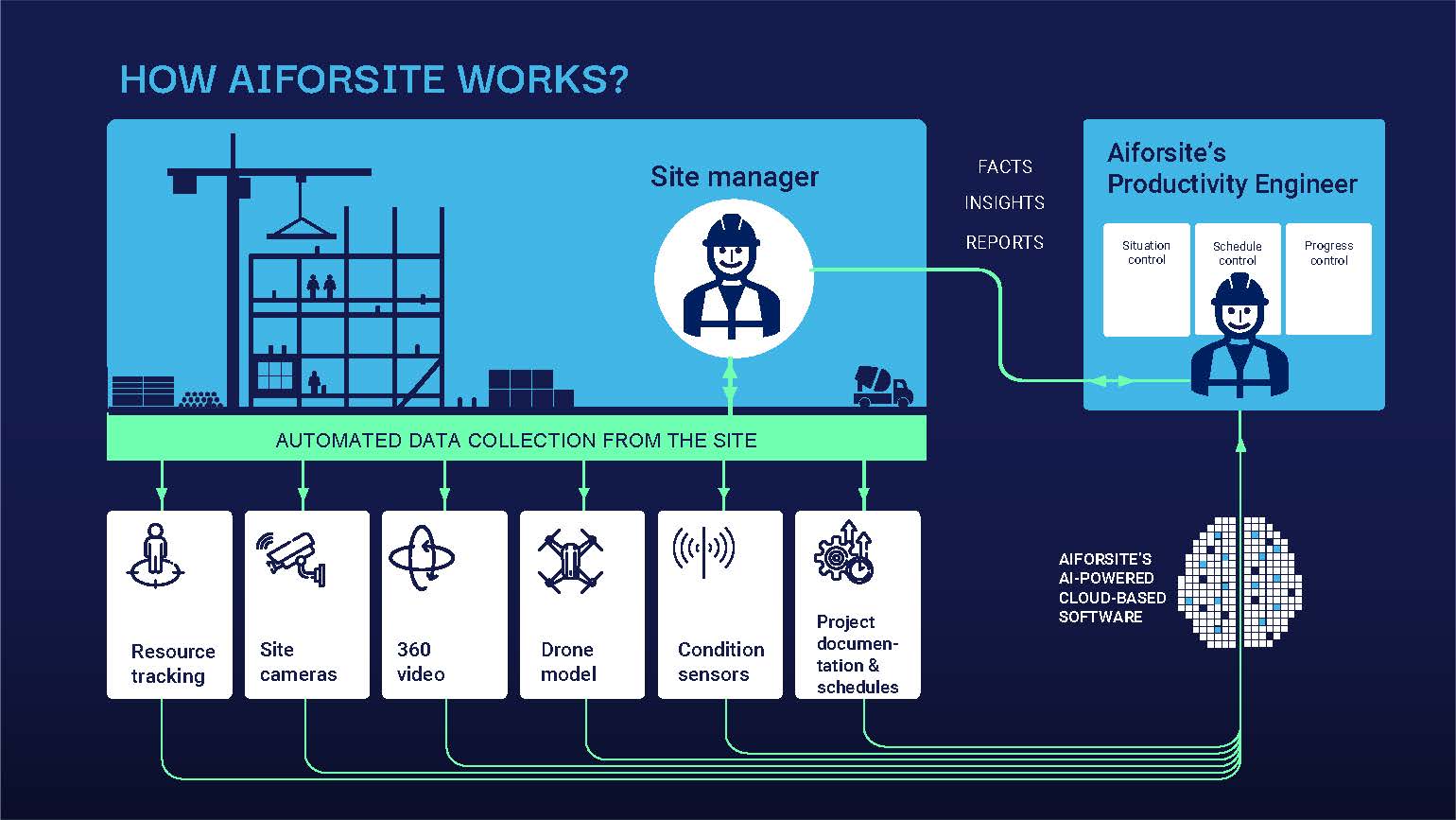 Productivity triangle: technology, people, and methodology
The UK construction and property development industries are committed to adopting Modern Methods of Construction and achieving Net Zero goals.
Aiforsite's combination of technology, human service, and methodology addresses the needs of the construction industry by providing an innovative approach to tracking, measuring, and improving the performance of tasks on the site.
Increasing the amount of uninterrupted direct work is the key. That is why resource tracking is at the core of the productivity management system, while remote monitoring and video control provide additional information.
Kari Hirvijärvi, Founder and CEO of Aiforsite, explains:
"It is now possible to have complete real-time situational awareness of all portfolio projects in one system. Aiforsite's productivity service reveals the time wasted during the construction process by comparing the actual situation on the site to the planned schedule. The fundamental goal of any developer is to deliver projects on schedule and with an agreed budget and quality. We reveal the barriers to this goal and remove them."
Build faster, smarter, and with higher quality
Finnish technology supports lean construction principles of continuous improvement and productivity growth. This enables the industry to do more with less and construct buildings faster, smarter, and with higher quality.
Vassos Chrysostomou, COO of Aiforsite UK Ltd, says:
"The services of a Productivity Engineer are an essential part of the solution. A productivity Engineer is a construction professional who joins the site organisation as an external team member. He ensures the correct data collection and provides weekly insights and analysis of the progress of work and productivity development."
Cut programme times and reduce carbon
Contractors can radically cut programme times by eliminating wasted time from the workflow and delivering projects ahead of schedule. Shorter completion times lead to fewer carbon emissions on site.
Property owners and developers can achieve faster ROI by reducing schedule risks, improving project transparency, and ensuring that they are remotely monitored and visually documented – while meeting Net Zero commitments.
For more information, please, contact:
Kari Hirvijärvi, CEO
Aiforsite Group
Mobile 07 341 977 706
kari@aiforsite.com
Vassos Chrysostomou, COO
Aiforsite UK Ltd
Mobile 07 889 641 712
vassos@aiforsite.com
About Aiforsite:
The construction technology company was established in Finland in 2016. The company operates globally and has delivered its solutions to over 100 construction projects in Finland, Norway, Denmark, India, Malaysia, and the UK. Aiforsite has a team of almost 30 professionals in construction, artificial intelligence, and software development. In Finland, Aiforsite works with the country's leading construction companies and property owners and is seeking significant growth in the domestic market. Aiforsite opened an office in London in 2022 and is currently carrying out the first trials with UK construction companies.
Address of UK office
1 Elmfield Park, London, Outer London BR1 1LU, United Kingdom